If you own a business and you're not showing up well in Google's local results,  you're missing out on massive potential for attracting new customers.
Whenever we search for a local service online, Google shows a map among the organic search results without requiring us to perform another click. Local results are the best way to stand out on Google for free. And it's more important than you probably think.  Here's why:
Almost 50% of all Google searches having local intent.
The google 3-Pack appears in 94% of searches with local intent.
50% of customers who perform Google searches for local businesses on smartphones, and 34% who search on desktop, visit a business within 24 hours.
18% of local mobile searches lead to a sale within one day.
50% of all local-mobile searchers are looking for business information like a local address or phone number.
When it comes to mobile local search, it is becoming more important than ever to make sure your site is mobile-responsive. Google is pushing sites towards becoming more friendly to mobile users because the proportion of Internet users on mobile devices is large and growing.
The easiest way to see how local searches work in real-time is to do a search for any local business category. Try "city name + auto repair" or "pizza place near me".  You'll see that Google displays its infamous 3-pack of local listings near the top, with organic listings below.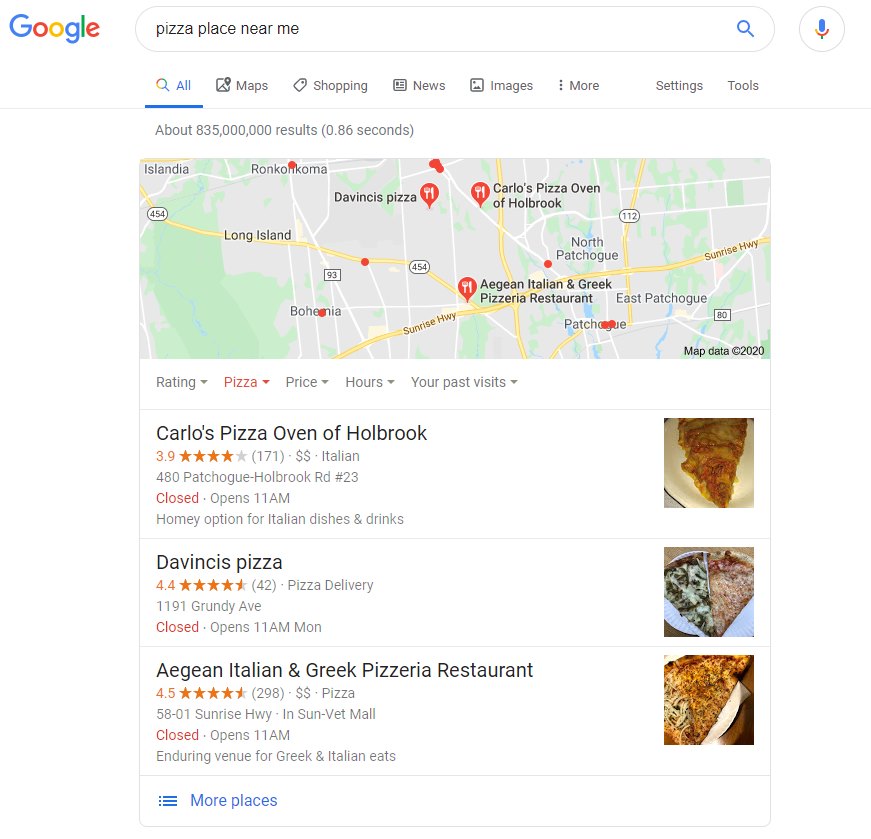 If you've ever wondered what Search Engine Optimization (SEO) was – this is local SEO at its best. Making sure you show up in the 3-pack on search results pages only happens when you have your Google My Business listing optimized. About 25% of the weight of your local 3-Pack ranking signals belongs to GMB—more than any other signals category. If Google My Business management isn't already a part of your brand's local marketing strategy, it needs to be as soon as possible.
About the '3-Pack'
As local search intent exploded, Google began displaying 3 local listings, pulled from Maps, on search results pages for all devices. Google Maps can still be used to view all local business listings for a given search but the 3-pack is where you want to be as its prime visibility. It is not uncommon for a small business that's listed on a few local listings without much traffic to beat out big chains that have a location in that area: that is how strong the effect of your presence can be on Google My Business. That's because Google wants to give searchers a good experience by emphasizing the results that are truly local.
How to Improve Local Search Engine Optimization Rankings
 Just like Google has its algorithm for ranking web pages, it has an algorithm for ranking local businesses. The listings Google feels are most relevant are given priority and are pushed to the top of Maps and search result pages and that puts you in the 3-pack..
Local Search Engine involves a lot but here's  some basic things every business can do to get started within Google My Business (GMB):
NAP (Name, Address, Phone Number) information must be up to date and accurate and should match the information on your website and other business listings (Yelp and Yellow Pages, for example).
List your business in the correct category
Include your company logo
Include general business information (hours, directions, etc.)
Add descriptive, keyword-rich text to describe your products and services.
Include images and videos to help potential customers learn about your business
Create posts within GMB. Offers can help too.
Get positive reviews for your business by asking clients to recommend you on Google.
There's many other factors involved with improving a Google My Businesses listing (our agency has someone dedicated to it!), but making sure your GMB has updated, relevant details will be time well spent toward improving your digital marketing. And GMB is free!
FAQ
What is a Google local 3 pack?
The Local 3-Pack in Google's search engine results is a colorful map listing. It presents to searchers the three businesses Google considers most relevant to the query and searcher's location and of the highest quality.
How to rank in the local 3 pack on Google?
There are many factors – Google My Business profile, links, reviews, on-page and social activities.
Does a Google My Business profile impact 3-pack rankings?
Absolutely! About 25% of the weight of your local 3-Pack ranking belongs to GMB. It's more than any other factor.
How do reviews impact 3-pack ratings?
Reviews provide essential social proof for searchers and help show what you offer and the type of experience they can expect. They can have an even more significant impact when placed on your local landing pages.
If you would like to learn more about how your business can use local SEO to grow your business, don't hesitate to speak with one of our SEO/GMB marketing experts at Harper.
Contact us today to get the conversation started!
---
About the Author: Steve Harper
Radio/TV and media personality Steve Harper leads Harper Marketing – a premier, full service marketing agency on Long Island, NY.  Harper Marketing specializes in digital and traditional marketing for businesses of all sizes.