Real Stories For Real Brands.
Content marketing has evolved. Buyers want to hear from the real people behind real brands and make real connections. And podcasting is the perfect medium for building that kind of authentic relationship.
We've taken the guesswork and technical part out of the process so you can sound professional right from start! Now, you can focus on what's most important - connecting with your customers and prospects.
Our team provides outstanding sounding podcasts which you can host or have a podcast/radio personality host your segment at no extra charge. Our hosts have years of broadcast experience and are nationally recognized.
At Harper Marketing, we help business owners like you bring their stories to life in audio. We develop, produce, and distribute podcasts so that you can engage with your most passionate followers, and create new ones.
Podcast development and launch strategy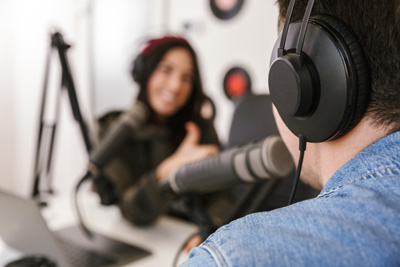 Together, we define the goals of your podcast and identify your target listener. Our team will assist with content, recording, editing and hosting. You can record your podcast at our studios or we can have a professional host call you and record over the phone with excellent quality.
We'll make sure each episode sounds incredible and is distributed across your website, social channels, and all the major platforms including Apple Podcasts, Google Podcasts, Spotify, and more.
Your podcast featuring your brand's story can be heard any time - anywhere in the world!
Harper Marketing is the leading podcast production company for businesses, brands, organizations, individuals, and entrepreneurs. No project is too big. No show is too small. Everyone is given boutique-level care and attention from our first meeting to the launch of your podcast.
From one podcast to many, each is fully managed and includes:
Pre-production coaching to discuss your show format
Professionally voiced intro and outro with music
One-hour podcast recording session for host and up to 2 guests (in our studio or by phone)
Premium audio editing and mixing and equalization to your voice
Mixing to mp3, adding titles, tags, Podcast cover art, and SEO tagging
Full distribution to major Podcast Platforms
Fully produced podcasts will be 6-20 minutes in length to maximize engagement with your audience.
Your podcast can be professionally hosted
at no extra fee.
One Episode Podcast Experience
---
Establish your brand with compelling content
Includes fully managed podcast production
4-Episode Podcast Series
---
Elevate your brand creating awareness to build relationships
Includes fully managed podcast production
6-Episode Podcast Series
---
Become a high-level brand leader and connect with your audience
Includes fully managed podcast production
All services you need in one place